Bathroom series MODUL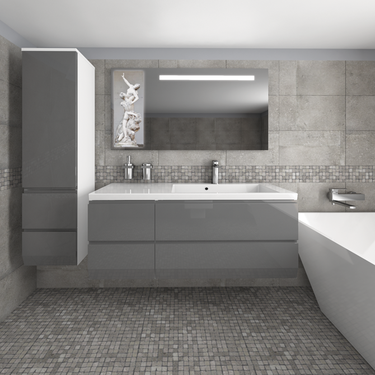 Bathroom series MODUL consists of wall hang under basin cabinet and high cabinet. Cabinets have integrated handles and inclined bottom part. Front doors colour availability: painted lily white (high gloss) and street grey (high gloss). Front doors are covered in UV lacquer. 
Cabinets are made of moisture resistant furniture board, fronts are made of moisture resistant MDF. Doors and drawers close softly (Blum system).
Under basin cabinets have two fully retractable drawers. High cabinet consists of two parts: upper part has door, with glass shelves inside; lower part has two drawers. Cabinets arrive already assembled.
Under basin cabinets are designed for Modul washbasins. There is a possibility to combine 844 and 400 cabinets and 125cm length left or right version of Modul washbasin.
Warranty: 5 years.
| | | | | | | | | |
| --- | --- | --- | --- | --- | --- | --- | --- | --- |
| Product name | A | B | C | Colour | Example | Status | Price | Blueprint |
| Cabinet under washbasin | 844 (mm) | 485 (mm) | 500 (mm) | Lily white | | S | 515.00 EUR | Download blueprint |
| Cabinet under washbasin | 844 (mm) | 485 (mm) | 500 (mm) | Lily white/Street grey | | S | 528.00 EUR | Download blueprint |
| Cabinet under washbasin | 400 (mm) | 485 (mm) | 500 (mm) | Lily white | | S | 370.00 EUR | Download blueprint |
| Cabinet under washbasin | 400 (mm) | 485 (mm) | 500 (mm) | Lily white/Street grey | | S | 383.00 EUR | Download blueprint |
| High cabinet L | 350 (mm) | 345 (mm) | 1419 (mm) | Lily white | | P | 655.00 EUR | Download blueprint |
| High cabinet L | 350 (mm) | 345 (mm) | 1419 (mm) | Lily white/Street grey | | P | 676.00 EUR | Download blueprint |
| High cabinet R | 350 (mm) | 345 (mm) | 1419 (mm) | Lily white | | P | 655.00 EUR | Download blueprint |
| High cabinet R | 350 (mm) | 345 (mm) | 1419 (mm) | Lily white/Street grey | | P | 676.00 EUR | Download blueprint |
Optional
| | | | | |
| --- | --- | --- | --- | --- |
| Product name | Type | Technology | Status | Price |
| Basin MODUL 850 C | | | S | 248.00 EUR |
| Basin MODUL 1250 L | | | S | 286.00 EUR |
| Basin MODUL 1250 R | | | S | 286.00 EUR |